A few weeks ago, I wrote about a promotional offer from U.S. Bank for its checking account which will give new customers $200 bonus when they open a qualified checking account and meet certain conditions. Even though the bonus offer itself only requires $25 to open an account, a direct deposit of at least $100 must be established during the account opening in order to qualify for the bonus. Plus, the checking account itself also requires that either monthly direct deposit be set up or a minimum balance of $1,500 be maintained to avoid monthly account service fee. From my experience, I think the bonus money is quite generous, but the requirement of monthly direct deposit has so far become the biggest hurdle for me to take advantage of any offer like this because I don't want to change how my direct deposit was set up.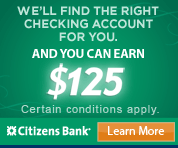 If you also have this concern, then there's another bonus offer from Citizens Bank that doesn't require direct deposit, though the bonus money is a smaller $125. Here's how the promotion works:
Open a new personal checking account before 11/15/12;
Make a single deposit of at least $500 that posts and clears your checking account by 11/30/12;
Make a minimum of 20 payment transactions that post and clear your account by 12/31/12.
And once all the above conditions are met, the bonus money will be deposit to the new checking account by March 31, 2013. As you can see, there's no direct deposit requirement and all you need to do after funding the account with $500 or more is making 20 payment transactions before the end of the year. Twenty transactions seem to be a lot, but if you generally make a lot of purchases using debit card instead of credit cards, this condition is not that difficult to meet. The definition of payment transaction covers a wide range of activities. According to the bank
Qualifying payments from your account include ATM withdrawals and payments made in our branches, payments made using our Online Banking service, Debit Card purchases, checks paid and automatic electronic payments to a third party.
If there's a Citizens Bank branch office near where you live, making 20 ATM withdrawals isn't that difficult to do in two months.
Of course, as you can imagine, Citizens Bank also impose conditions on its checking accounts or you will face monthly charges just like U.S. Bank does. Specifically, Citizens Bank has three checking accounts that are eligible for this promotion: Regular Checking and Interest Checking. For Regular Checking, you can have the Green Checking account that requires 5 payment transactions per month or $1,500 monthly account balance to avoid $9.99/month service charge. For Interest Checking, you can choose either Personal Checking or Circle Gold Checking. Personal Checking with Interest requires 5 payment transactions per month or $2,500 monthly average balance for $11.99 fee to be waive. If you have a large amount of money, then maintaining $20,000 combined account balance (including balance in deposit, loan and investment accounts) qualifies you for a Circle Gold Checking with Interest Account and no monthly account fee (otherwise $20 fee will be assessed).
What do you think about the $125 promotion from Citizens Bank? Is it better than the one from U.S. Bank?
Share and Enjoy